Electric Garage Doors
Electric Garage Doors
Electric Garage Doors
London Gate Company are also qualified to install automation to new and existing garage doors. Why not control your gates and garage from the same remote control?!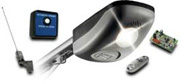 The 'VER' garage door operator is a comprehensive package of CAME equipment designed to automate new or existing horizontally tracked garage doors, which are the up and over type of door. It can automate doors from 1.8 m wide to 6m wide (6' to 18'). The principle of the 'VER' is a rigid "C" section steel shaft containing a strong carrying chain which is connected by a bent "banana" arm to the centre point at the top of the door. This provides a powerful yet smooth operation to the balanced door.
It has a quiet 24 volt motor with an electronic control panel and limit switches. The limit switches not only cut off the motor at the top and the bottom, but also decelerate the door when it reaches its final few inches of closure.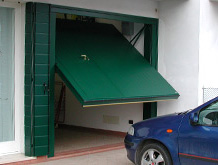 It has power sensitivity with an intelligent method of sensing an obstruction in the path of the door and can also accommodate extra infra-red safety beams if desired.
It has an integral light on a timer providing a small courtesy light within the garage as the door is operated. There is also a manual release mechanism, so that in the event of a power cut the door can be operated manually.
As well as operating horizontally tracked and sectional up and over doors, we have a version of the 'VER' that can open and close outward opening, swing type garage doors, called the 'VER-Y'. At an additional cost to the basic 'VER' the 'VER-Y' provides a successful method of opening the traditional type of swing door to 90 degrees, with an efficient metal rod system attached to the higher level of both swing doors.
Contact us today » for your no obligation onsite survey or quotation